 제주속의 작고 아름다운 이탈리아 바닷가 마을
"Libentia" 리벤시아는 라틴어로 "기쁨", "즐거움"을 의미하며 투숙하시는 고객들의 즐거운 여정을 기원합니다.

Family Pool Villa Corniglia F 객실은 기본인원 4인, 최대인원 6인이며 킹 사이즈의 베드 2개가 포함되어 있습니다.

- 기준인원 초과 시 36개월 ~성인 Pool Villa 1박당 33,000원(Cocomat 토퍼 포함)

- 체크인 : 15:00 ~ 22:00시 까지 (22시 이후 입실 경우 사전 연락 부탁드립니다.)
체크아웃 : 11:00시 까지 (Late Check Out : Pool Villa 50,000원/1Hour)

- 조식 : 60개월 ~ 초등학생 11,000원. 중학생~성인 22,000원
이용시간 07:30 ~10:30 까지 (Last Order 10:00) //

- 요일별 단품 + 샐러드바(과일, 샐러드, 시리얼, 빵 등)

- Pool Villa 온수이용 : 무료제공 10월~5월
(이용시간 : 09:00 ~ 11:00 , 19:00 ~ 21:00 )

- Pool Villa BBQ : 2인 Set 69,000원 // 4인 Set 132,000원 // 그릴대여 50,000원
(사전 예약 필수)

- Pool Villa 식기 대여 : 2인 22,000원 // 4인 33,000원
(밥공기, 국그릇, 접시, 수저, 냄비) // 호텔 취사 불가능

Bathroom : 100%천연코튼 목욕가운. 100%천연코튼 핸드/워시/바스/풋타올. 드라이기. 친홖경 천연 샴푸/컨디셔너/바디워시/로션/비누. 욕조

Bedroom-Livingroom : COCO-MAT BED(Greece). 침구류(Swiss Dauny Goose).
거위털 & 라텍스 베개. 42" LG led TV(128ch). 전화기. Free Wi-Fi. 슬리퍼. 미니냉장고. 전기포트. 생수

*객실 내에 취사는 불가합니다.
Accomodation Facilities
Basic facilities

Kind of accomodation : Hotel
House size : 43
the number of bedrooms : 2
the number of beds : 2
the number of bathrooms : 2

Basic facilities

Cable TV

Refrigerator

Air conditioner

수영장

heating

바다 근처

Kitchen(Individual)

교통편리

Internet

제주스러움

Wifi

Electronic port

Microwave

towel

iron

TV

Hair dryer

Additional facilities

Doorbell/Intercom

Door-lock

Shampoo

Cooking available

Barbeque area

Public transportation available

Bath tub

Terrace

Swimming pool

beach

Breakfast

Free parking

elevator

Special facilities

Family/children friendly

Wheelchair accessible

Accommodation safety

Fire extinguisher

No smoking in the room

Fire detector

price
per a night : 558,000( a month 17800200 WON )
review 0
there is no review.
You can write first review on this host if you stay here!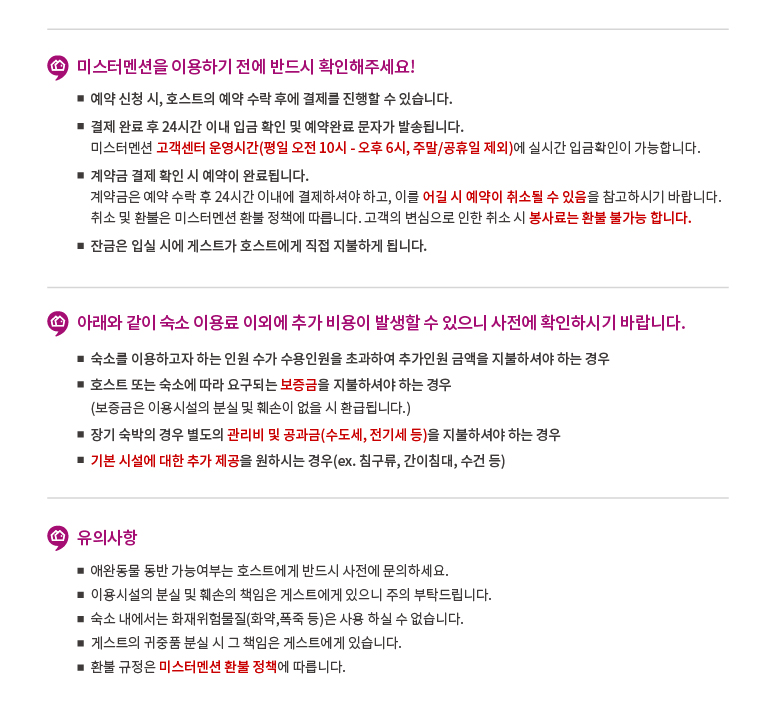 619,380 (기존 금액)

558,000

※

min

available room over

1 nights

※ The above amount may be different depending on the off-season and peak season.
Payment and refund guide
Payment, comission, tax invoice, cash receipt guide
1

In MR,MENTION, you can pay the down payment if host accepts your reservation.

2

MR,MENTION require the down payment to guest for safe trade and credit. Guest pay the down payment for booking complete.
The down payment is

40~50% of tatal accomodation price(except deposit)



When you leave, you can get partial deposit(except taxes) back.

(Amount except bills)




Pertinent data and standard for including taxes may vary depending on hosts




① credit card, check card
② Paypal payment
③ Account transfer
Busan Bank 256-097015-01-038
MR,MENTION

3

The down payment will be deposited on the host every friday after the guests pay.

Every Friday from the day of arrival to the host,

,The balance except the down payment wi

4

If guest want to issue tax invoice and cash receipt, it is possible.

5

Cancel or refung is according to Mr,Mention refung policy. It can not be refunded if the guest cancels the booking due to guest's change.