제주시 한림읍 귀덕리에 위치한 지중해빌은 바다와 직선으로 120미터 떨어진 곳에 위치하고 1층은 물론 2층 모든 집에서 제주의 청정바다를 보실 수 있는 특급 조망이 장점이며, 세계 최초 해녀학교 "한수풀 해녀학교"와 영화촬영지로 유명한 카페 "메기의 추억" 바로 앞에 있어 관광객의 발길이 끊기질 않고, 협재 해수욕장과 곽지 해수욕장이 가까워 관광객은 물론 한 달살기 등으로 인기가 많은 곳에 위치하고 있으며, 1층 2층 복층구조로 각층에 주방과 거실 침실 욕실이 있어 대가족은 물론 2가족이 숙소로 사용하실수 있습니다. 야외 바베큐를 즐길수 있는 시설도 완비되어 있습니다.

기타 사항

1층, 2층 계단에 중문이 설치되어 있어 두가족 이상이 놀러 오셔도 세대 분리가 가능해 편안한 여행이 되실수 있을 겁니다.

@ 보증금은 14박 이상 숙박시 발생하며, 공과금(전기세, 가스비)을 공제한 후 퇴실시 반환됩니다.

@ 보증금 적용 기준 : 하절기 50만 원, 동절기 80만 원

@ 퇴실전 청소, 설거지 및 쓰레기 분리수거해주시기 바랍니다.

@ 청소 상태가 좋지 않으면, 보증금에서 별도의 청소비가 차감될 수 있습니다.
Accomodation Facilities
Basic facilities

Kind of accomodation : Duplex
House size : 26
the number of bedrooms : 2
the number of beds : 1
the number of bathrooms : 2

Basic facilities

TV

Hair dryer

Cable TV

바다 근처

Air conditioner

마당

heating

교통편리

Kitchen(Individual)

Microwave

Internet

Wifi

Rice cooker

Electronic port

Kitchen(shared)

towel

Refrigerator

Utensils

Additional facilities

Laundry Washer(individual)

Free parking

Shampoo

Doorbell/Intercom

Door-lock

Cooking available

Barbeque area

Public transportation available

Laundry Washer(shared)

Garden

Terrace

beach

Special facilities

Pets allowed

Wheelchair accessible

Pets already exist

Family/children friendly

Accommodation safety

Fire detector

Fire extinguisher

No smoking in the room

price
per a night : 68,897( a month 1980001.1 WON ) / basic deposit : 500000 WON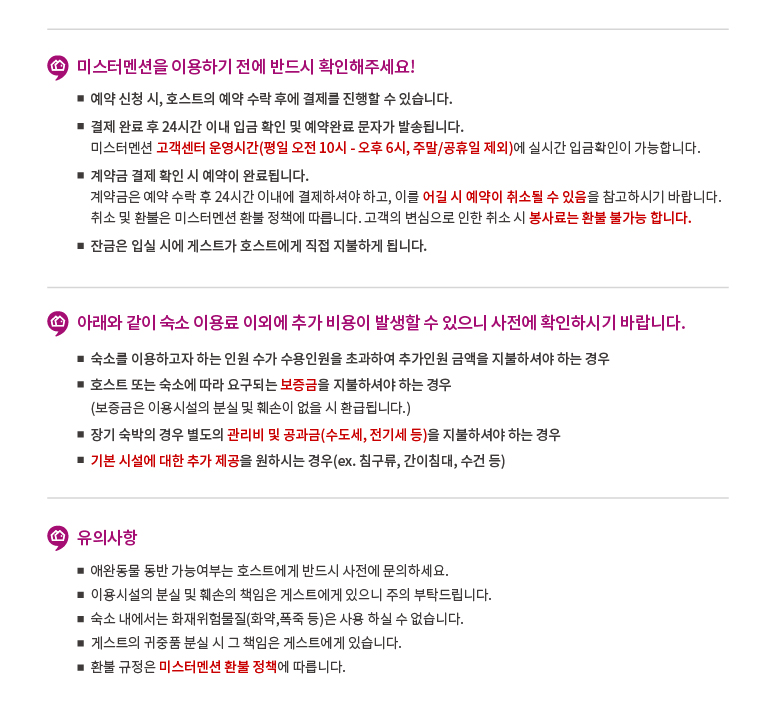 basic price (may be different during certain periods)

1,998,001 (a monthly price)

※

min

available room over

1 nights

※ The above amount may be different depending on the off-season and peak season.
Payment and refund guide
Payment, comission, tax invoice, cash receipt guide
1

In MR,MENTION, you can pay the down payment if host accepts your reservation.

2

MR,MENTION require the down payment to guest for safe trade and credit. Guest pay the down payment for booking complete.
The down payment is

40~50% of tatal accomodation price(except deposit)



When you leave, you can get partial deposit(except taxes) back.

(Amount except bills)




Pertinent data and standard for including taxes may vary depending on hosts




① credit card, check card
② Paypal payment
③ Account transfer
Busan Bank 256-097015-01-038
MR,MENTION

3

The down payment will be deposited on the host every friday after the guests pay.

Every Friday from the day of arrival to the host,

,The balance except the down payment wi

4

If guest want to issue tax invoice and cash receipt, it is possible.

5

Cancel or refung is according to Mr,Mention refung policy. It can not be refunded if the guest cancels the booking due to guest's change.