 새로 오픈 한 Loft Residence Chiang Mai 는 치앙마이 (Chiang Mai )의 현대적인 편리 서비스 아파트 단지입니다. Loft Residence는
관광 여행객 및 비즈니스 여행객 모두 에게 훌륭한 위치 조건 을갖춘 세련된 객실을 보유하고 있습니다.
공항에서 단 10 분 거리에 위치한 The Loft Residence Chiang Mai는 저렴한 숙박 요금을 제공합니다. 로프트 레지던스 치앙마이
아파트는 세련되게 설계되었으며, 무료 Wi-Fi, 인터넷 , 위성 TV, 에어컨 및 기타 시설을 포함한 모든 현대적인 편의 시설을 갖추고 있습니다.
장기 임대의 번거로움없이, 우리의 크고 편안한 아파트에서 진정으로 휴식을 취할 수 있습니다. 치앙마이에서 장기간 머무를 계획이라면
로프트 레지던스가 최선의 선택입니다

1) 한달 장기 임대시, 숙소에서 보증금을 요구합니다. (평균 2달치 월세)
2) 숙박기간 동안 발생하는 전기세와 물세는 별도로 지불하셔야 합니다.
3) 숙박시설에 따라서 무료 wifi 가 포함될 수도 있고 별도로 사용료를 지불하셔야 할 수도 있습니다.
4) 요금은 시즌별(비수기/성수기)에 따라 달라질 수 있습니다.
5) 서비스 차지에는 첫날 공항픽업과 숙소 체크인 서비스가 포함 되어 있습니다.
6) 상기 내용은 현지 사정에 따라 변동/변화 될 수 있습니다.

#모든 숙소요금에 서비스 차지 100,000원(한화)이 추가 됩니다.
Accomodation Facilities
Basic facilities

Kind of accomodation : Hotel
House size : 8
the number of bedrooms : 1
the number of beds : 1
the number of bathrooms : 1

Basic facilities

TV

Air conditioner

heating

Kitchen(Individual)

Internet

Wifi

towel

Hair dryer

Refrigerator

Additional facilities

Doorbell/Intercom

Swimming pool

Door-lock

price
per a night : 7,044( a month 202437.4 WON )
review 0
there is no review.
You can write first review on this host if you stay here!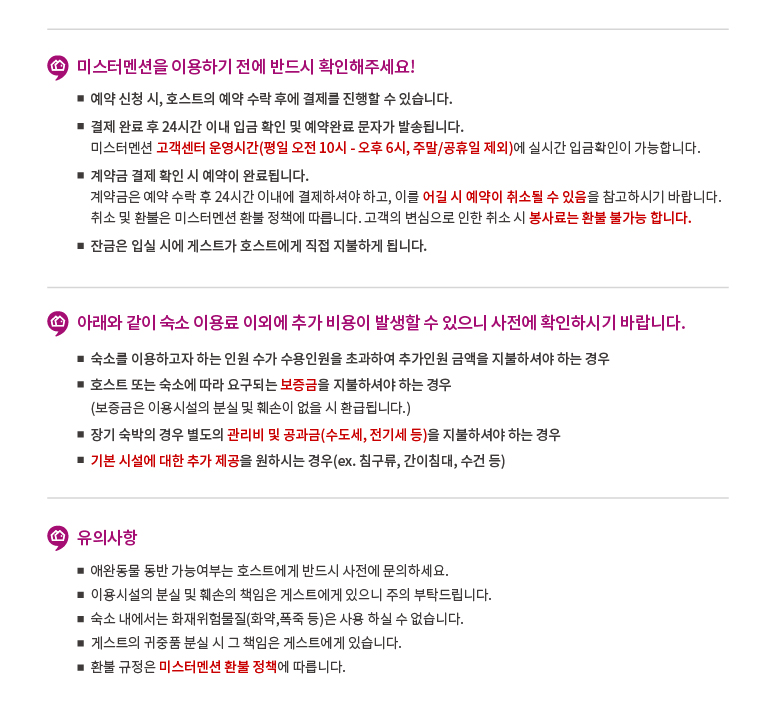 basic price (may be different during certain periods)

204,278 (a monthly price)

※

min

available room over

1 nights

※ The above amount may be different depending on the off-season and peak season.
Payment and refund guide
Payment, comission, tax invoice, cash receipt guide
1

In MR,MENTION, you can pay the down payment if host accepts your reservation.

2

MR,MENTION require the down payment to guest for safe trade and credit. Guest pay the down payment for booking complete.
The down payment is

40~50% of tatal accomodation price(except deposit)



When you leave, you can get partial deposit(except taxes) back.

(Amount except bills)




Pertinent data and standard for including taxes may vary depending on hosts




① credit card, check card
② Paypal payment
③ Account transfer
Busan Bank 256-097015-01-038
MR,MENTION

3

The down payment will be deposited on the host every friday after the guests pay.

Every Friday from the day of arrival to the host,

,The balance except the down payment wi

4

If guest want to issue tax invoice and cash receipt, it is possible.

5

Cancel or refung is according to Mr,Mention refung policy. It can not be refunded if the guest cancels the booking due to guest's change.