 ** 구좌읍 김녕리는 공항에서 승용차로 30~40분, 제주공항에서 급행버스101번(제주공항-서귀포버스터미널)을 타고 김녕초등학교에서 내리시면 됩니다.
** 김녕리에는 큰마트(하나로마트, 킹마트)와 24시 편의점, 농협, 우체국, 김녕초,중학교, 제주국제요트학교, 김녕 요트투어, 구좌실내체육관과 체육공원등이 있으며 집에서 가까운 보건소내 헬스장은 무료로 사용하실수 있습니다.
** 걸어서 10분정도면 너무도 환상적인 애머랄드빛 "성세기해변"에 갈 수 있으며, 해안도로를 따라 차로 10분정도 가시면 함덕,월정(까페거리), 세화(5일장, 벨롱장)까지 편하게 이동할 수 있습니다.
** 주변 관광지로는 김녕월정 지질트레일,김녕금속벽화마을,만장굴, 비자림, 미로공원, 성산일출봉, 에코랜드, 용눈이오름, 다랑쉬오름, 거문오름, 선녀와 나무꾼, 소인국테마파크, 교래리 자연휴양림, 사려니숲길, 절물자연휴양림, 돌문화공원 등이 있습니다.

"전체적으로 집에 햇빛이 잘 들어오다 보니 항상 밝고 정겨운 느낌이 물씬나는 곳입니다.
최신시설을 갖춘 곳은 아니지만 지내다 보면 예쁜 새들도 자주 찾아올 만큼 제주도의 자연과 푸근함, 그리고 여유를 가장 잘 느낄 수 있는 곳이랍니다

*전기,수도세는 금액에 포함이지만 난방비는 별도입니다.

이 숙소의 달력은 2019-05-22 18:05에 마지막으로 업데이트 되었습니다
이 호스트의 예약수락율은 33.3% 입니다
Accomodation Facilities
Basic facilities

Kind of accomodation : two rooms(a room+living room)
House size : 10
the number of bedrooms : 1
the number of beds : 0
the number of bathrooms : 1

Basic facilities

Refrigerator

마당

TV

Electronic port

바다 근처

Air conditioner

Rice cooker

편의시설

heating

교통편리

Kitchen(Individual)

Wifi

Microwave

Utensils

Hair dryer

Additional facilities

Barbeque area

Garden

Free parking

Shampoo

Cooking available

Laundry Washer(individual)

Public transportation available

Accommodation safety

Fire extinguisher

Fire detector

No smoking in the room

price
per a night : 18,966( a month 605015.4 WON )
review 0
there is no review.
You can write first review on this host if you stay here!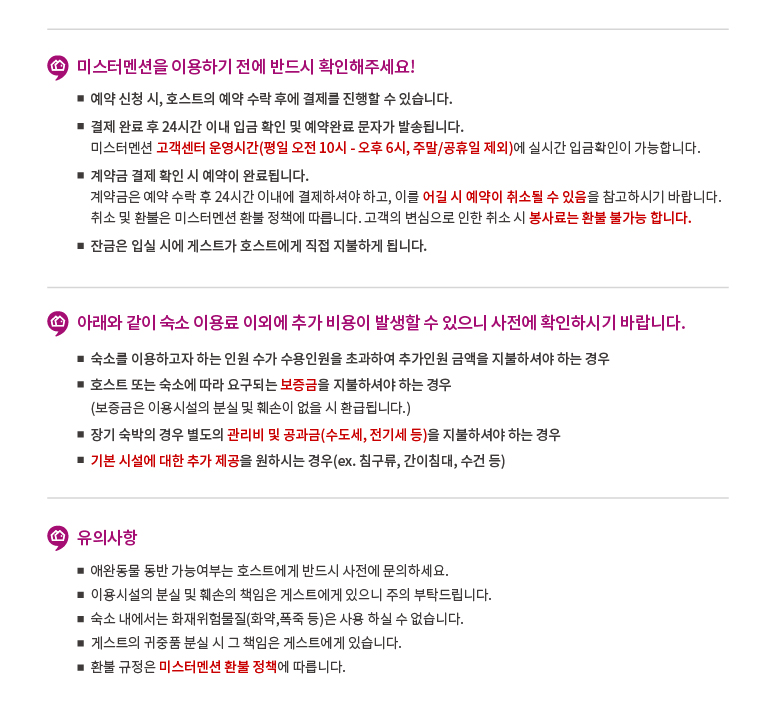 610,516

550,014

※

min

available room over

6 nights

※ The above amount may be different depending on the off-season and peak season.
이 숙소의 달력은 2019-05-22 18:41에 마지막으로
업데이트 되었습니다.
Payment and refund guide
Payment, comission, tax invoice, cash receipt guide
1

In MR,MENTION, you can pay the down payment if host accepts your reservation.

2

MR,MENTION require the down payment to guest for safe trade and credit. Guest pay the down payment for booking complete.
The down payment is

40~50% of tatal accomodation price(except deposit)



When you leave, you can get partial deposit(except taxes) back.

(Amount except bills)




Pertinent data and standard for including taxes may vary depending on hosts




① credit card, check card
② Paypal payment
③ Account transfer
Busan Bank 256-097015-01-038
MR,MENTION

3

The down payment will be deposited on the host every friday after the guests pay.

Every Friday from the day of arrival to the host,

,The balance except the down payment wi

4

If guest want to issue tax invoice and cash receipt, it is possible.

5

Cancel or refung is according to Mr,Mention refung policy. It can not be refunded if the guest cancels the booking due to guest's change.